Over John Steven Watts (12 August 1957)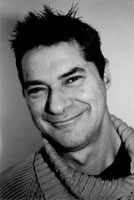 John created the feel and look of YVVAN in 2001. On 23 March 2004 he passed away. These pages are to honor him as a partner, a friend and as the professional that transformed vision into image and words with a purpose.
If you would like to send us a reaction, feel free to use the "Your Feedback" link.
Henriëtte, Paul, Pieter and Gérard.